AFFORDABLE

PRICES

FRIENDLY

& TIDY

WORK

GUARANTEED

LATEST

TECHNOLOGY
WE MAKE YOUR FLOOR SHINE
Be honest. Are your traditional wooden floors a cause of pride in your heart... or giving you that sinking feeling?

Don't despair. Those shabby, grey and marked surfaces can be sanded away and made ready for the creation of a beautiful new floor.
Whether in the home, office, school, shop, restaurant, bar or gallery, this is a job for a specialist floor restoration company.
Floor Sanding Balham ​SW12 are your choice for floor sanding and sealing.
From hardwood boards to parquet blocks, we have restored hundreds of floors for over twenty years. No matter how old or decrepit your floor, you'll get the full service:
Repairs and replacement of damaged timber; sanding away old paint and sealant; staining the bare wood. Why not choose a lighter or darker colour to match your decor, such as the modern pale grey or Scandinavian white?
We then provide a new finish of hard wax, natural oil or lacquer.
And all with the minimum fuss and mess. Modern sanding is virtually dust free – as our cylinder machines have a unique collection method. And with flexible working - at weekends or even overnight - any inconvenience will be brief.
We only use the best quality products and complete the job to the highest standards. The final result may well surpass the original, given all the improvements in floor care and techniques.
So call us today for your free assessment. And receive the best advice from our highly qualified team members.
Floor Sanding Balham - for a splendid new floor.
THE SOUTH BECKONS VIA BALHAM
The High Street was once part of Stane Street - the Roman road to Chichester. Despite some large houses to the south around the commons, the area only really developed
with the building of the Station in 1856.
​The 1930's Du Cane Court, built in impressive Art Deco style, is notable in being the largest block of flats in Europe built for private - as opposed to social housing - use.The area has experienced an upsurge in popularity and is now noted for its vibrant cultural diversity.
Among famous people born in Balham are Margaret Rutherford, BBC carpenter turned writer of 'Only Fools and Horses', John Sullivan and Basil Brush's sidekick, ' Mr Derek' Fawlds.
Another son of Balham, cricketer, Percy Fender, former Surrey captain and England all-rounder, scored a 35 minute century in 1920 - still the fastest on record (in non-contrived circumstances).
Latest News, Recommended Articles & Tips
Tips for dying your hardwood floor
Dying a floor can create a stunning range of aesthetic effects, like turning it jet black or seamlessly matching other flooring in the house, but it's not an easy process. Dye dries extremely quickly so there's plenty of opportunity to make mistakes, meaning you'll have to start the floor sanding and finishing process again. Here's how to avoid overlap lines and stop marks and create a stunning dyed floor.
Dye vs stain
Unlike a pigmented stain, a dye can be used repeatedly until your floorboards are the desired level of darkness. Dye also penetrates the wood evenly, unlike stain, so there are no visible blotches and you'll create a consistent effect across the floor. Dye is also transparent, so if you want to showcase the grain of the wood it's a smart choice.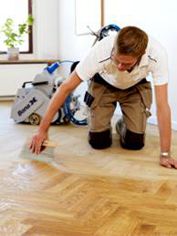 Before you start
You'll need to hire your sanding equipment - dust free sanding equipment makes clean up far easier - and strip the old finish from the floor back to the raw wood. Pay particular attention to the edges and corners and make sure that, when hardwood floor sanding, you decide on a grit sequence and stick to it as otherwise you run the risk of creating swirl marks that will really stand out when you come to dye and finish the floor.
Keep your sanding machine moving at all times and don't rush - move slowly and methodically across the floor following the line of the grain of the wood. Vacuum thoroughly between each sanding as particles of dust can ruin the finish.
Application tips for the perfect dye job
Your technique needs to be spot on when working with dye, as it's probably the most unforgiving way to finish your flooring.
• Use a pad applicator across the entire floor and work with the grain in order to minimise overlap lines.
• Cut your applicator pad to the exact width of two/three boards so you minimise overlap lines.
• Use long strokes to apply the dye so you don't get a build up in various spots.
• Saturate your pad with dye but don't soak it so you end up with build up marks.
The more coats you add, the darker the finished effect and the less any overlap lines will show, but work fast to even out any pools of dye for the perfect finish.
For more advice, speak to the Floor Sanding Team today.
Before & After